Welcome to Black Art Graphics
Corporate Gift Solutions for the Automotive and Motorsports Industries

Engineered Art - Unique corporate gift solutions for the automotive and motorsports industries
Whether it's gifts for your VIP guests at a corporate event, something to reward your team members for exceptional performance or a special memento to thank a respected member of staff on their retirement, we can create a unique gift solution tailored specifically to your needs.

Black Art Graphics supply corporate merchandise solutions to some of the most renowned names in the automotive world. Specialising in automotive themed engineering artwork our talented CAD-designers-turned-graphic artists will create a bespoke technical drawing based on your project brief, personalise it to your requirements and then laser etch the finished design onto premium grade brushed aluminium plaques.

A full white label service is offered featuring bespoke gift boxing solutions and with no minimum purchase we can tailor a solution to meet almost any budget!

Contact us today for a quotation and request a sample pack!
Enquire Today
Need a unique gift idea for a loved one this Christmas?
If they love cars, we've got you covered!
Official Licensed Products
Check out our fully licensed Ford and Lotus collections
Gifts starting from just £39!
Can't find your vehicle in the catalogue?
We can create artwork for a huge range of vehicles, drop us a message below and we'll let you know if it's one we can do!
Got something a little bit unique?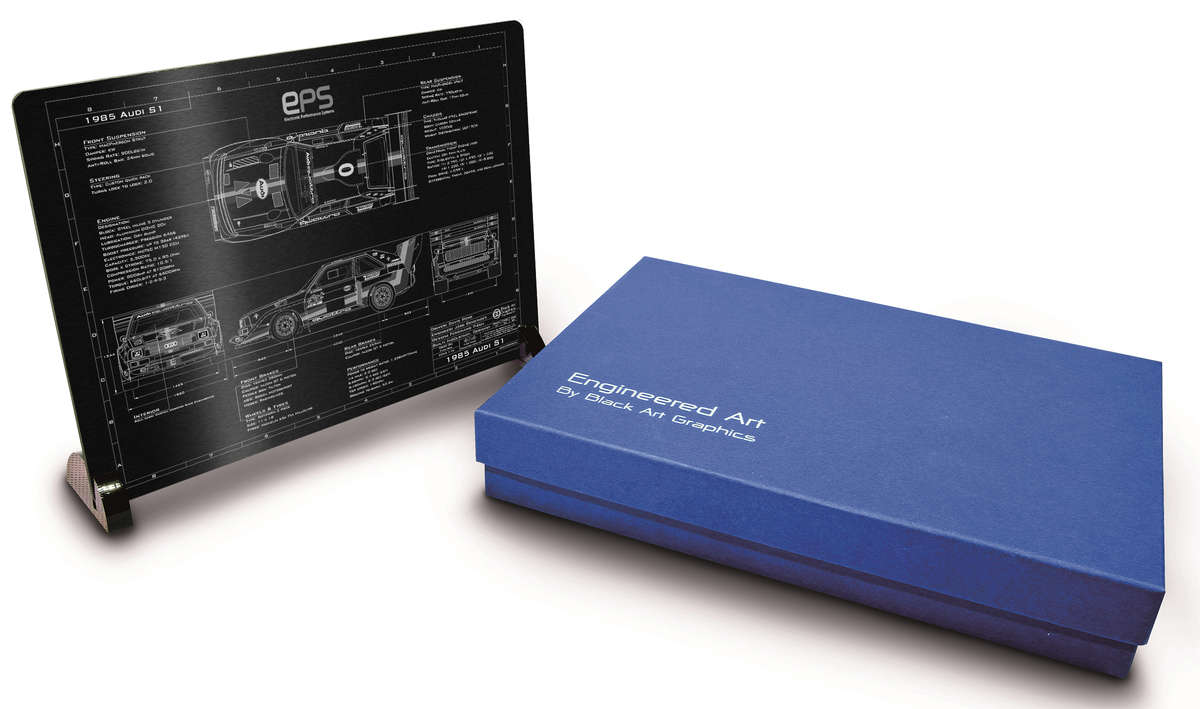 Custom cars deserve custom artwork!
Whether it's a highly tuned competition vehicle or a custom built hot rod, Black Art Graphics can create a stunning orthographic blueprint illustration with nothing more than photographs.

Using our proprietary referencing technique we can turn pretty much any vehicle into a work of Engineered Art!

Custom commissions are available from £650, please contact us today for a quotation!
Custom Commissions
Want to see how it's made?
Everyone loves watching CNC machinery in action!
Check out our 2015 Mustang taking shape line by line...