Laser Engraved 2007-2012 Mini Cooper S JCW Blueprint
Mini
2007-2012 Mini Mini Cooper S JCW

Laser Etched Aluminium Blueprint
Image for reference only, your design may vary depending on the information you provide.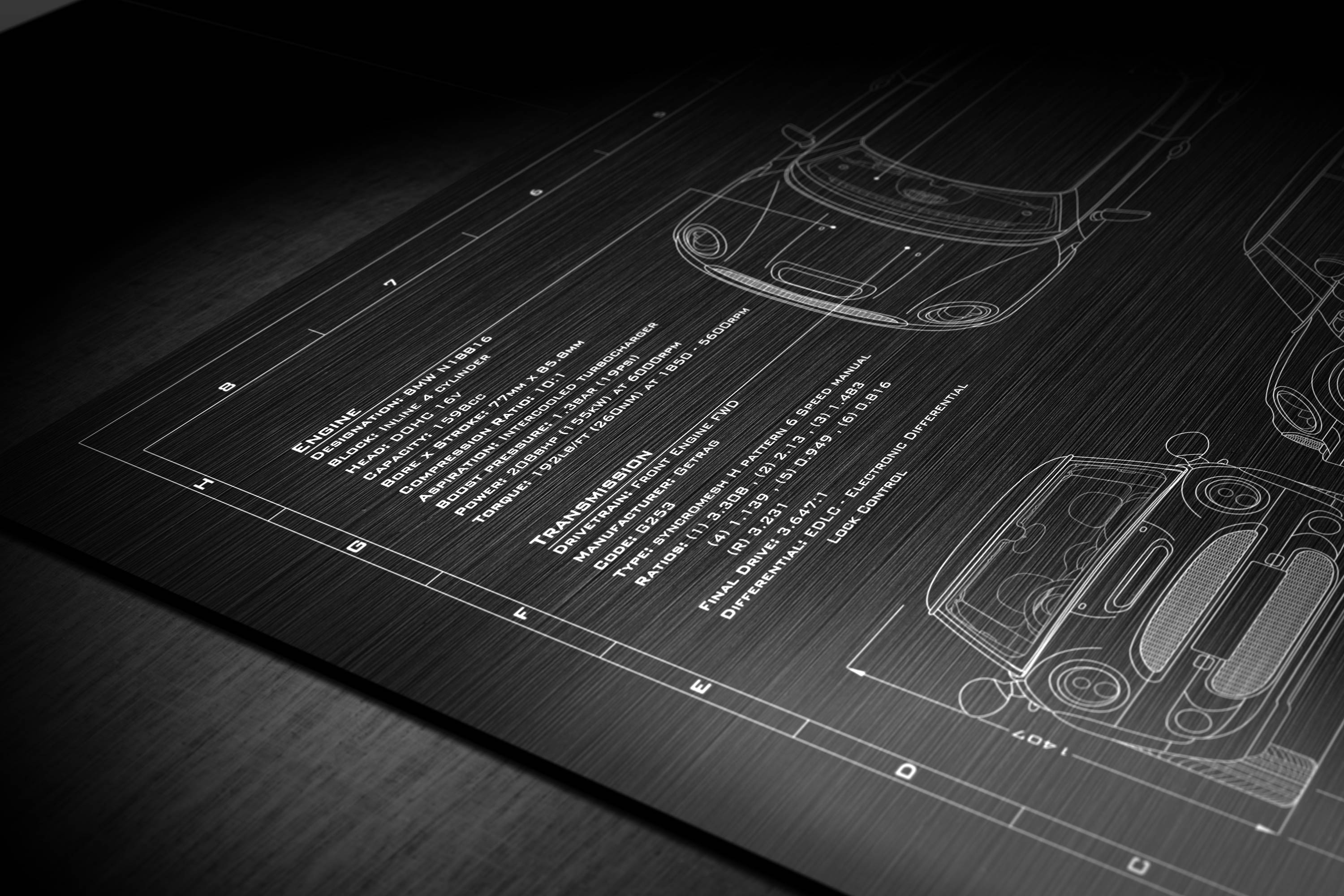 2007-2012 Mini Mini Cooper S JCW

Laser Etched Aluminium Blueprint
Whether you are looking for the perfect gift for a loved one, or simply a unique piece of art to commemorate your Mini Cooper S JCW ownership, our 2007-2012 Mini Mini Cooper S JCW 'Engineered Art' plaque is the perfect solution.
Our signature High Definition Orthographic™ illustrations are 100% original artwork, unavailable anywhere else. Each design begins with a specialist photography session with a real life example to generate the perfect reference images, before being digitally recreated by our talented in house artists to create a uniquely styled technical illustration of unparalleled detail and proportional accuracy.
Engineered Art uses no ordinary canvas either. Precision cut from 3mm thick aircraft grade aluminium using a waterjet,ground to a brushed finish before being anodised in a deep matte black, our unique double finishing process creating a stunning high tech canvas, worthy of being called Engineered Art.
Looking for a different Mini model? View the rest of the Mini Collection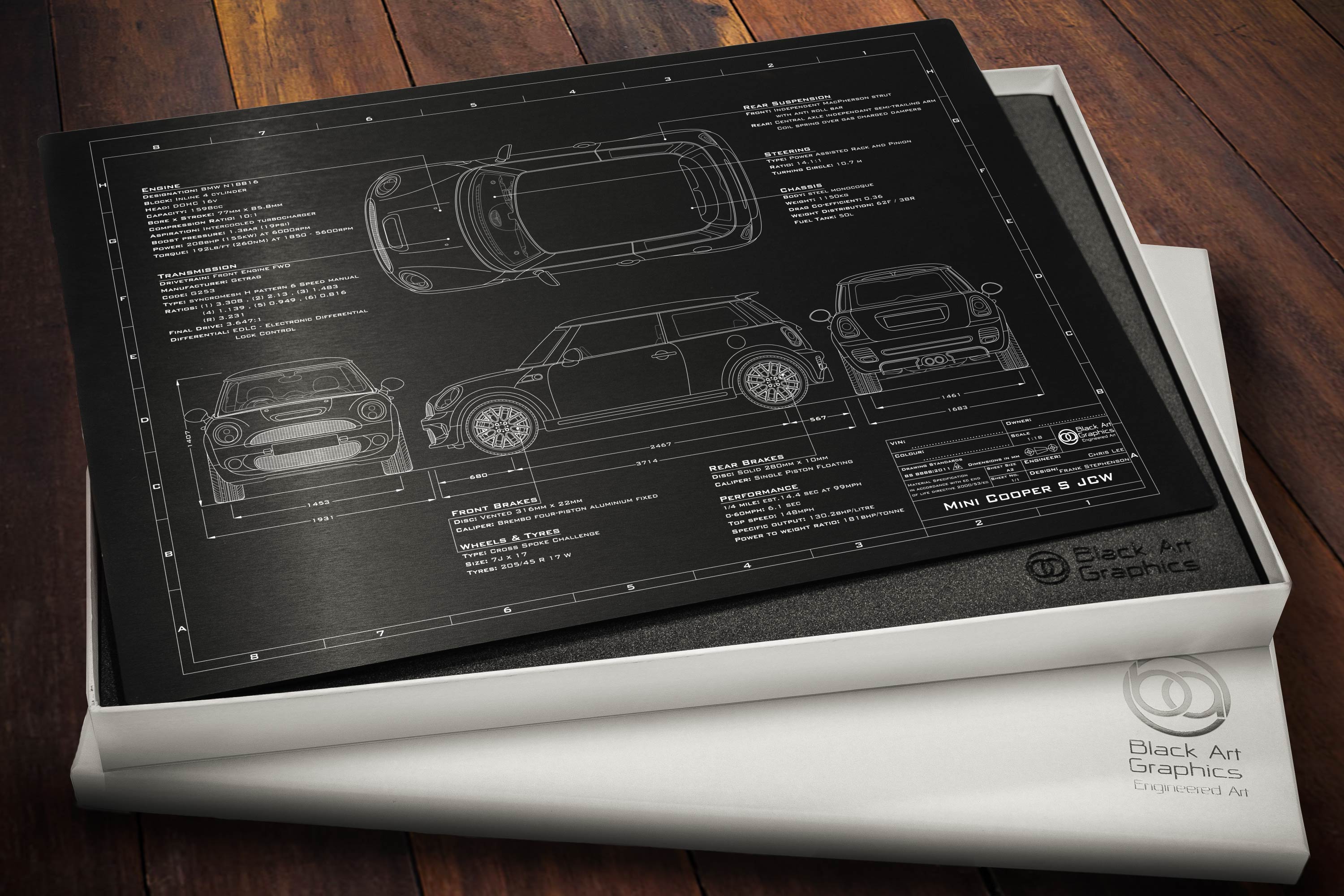 How to Order
Step 1
Choose the appropriate vehicle variant, desired plaque size and whether you would like to customise your product.
Step 2
Proceed to checkout.
Step 3
Once your order has been confirmed, you will receive an email requesting the vehicle information to be included on the plaque, which can be completed at your leisure.
Step 4
Once the personalisation detais have been received, we will create your customised draft copy.
Keep an eye out for your proof copy arriving by email, and be sure to follow the instructions in the email.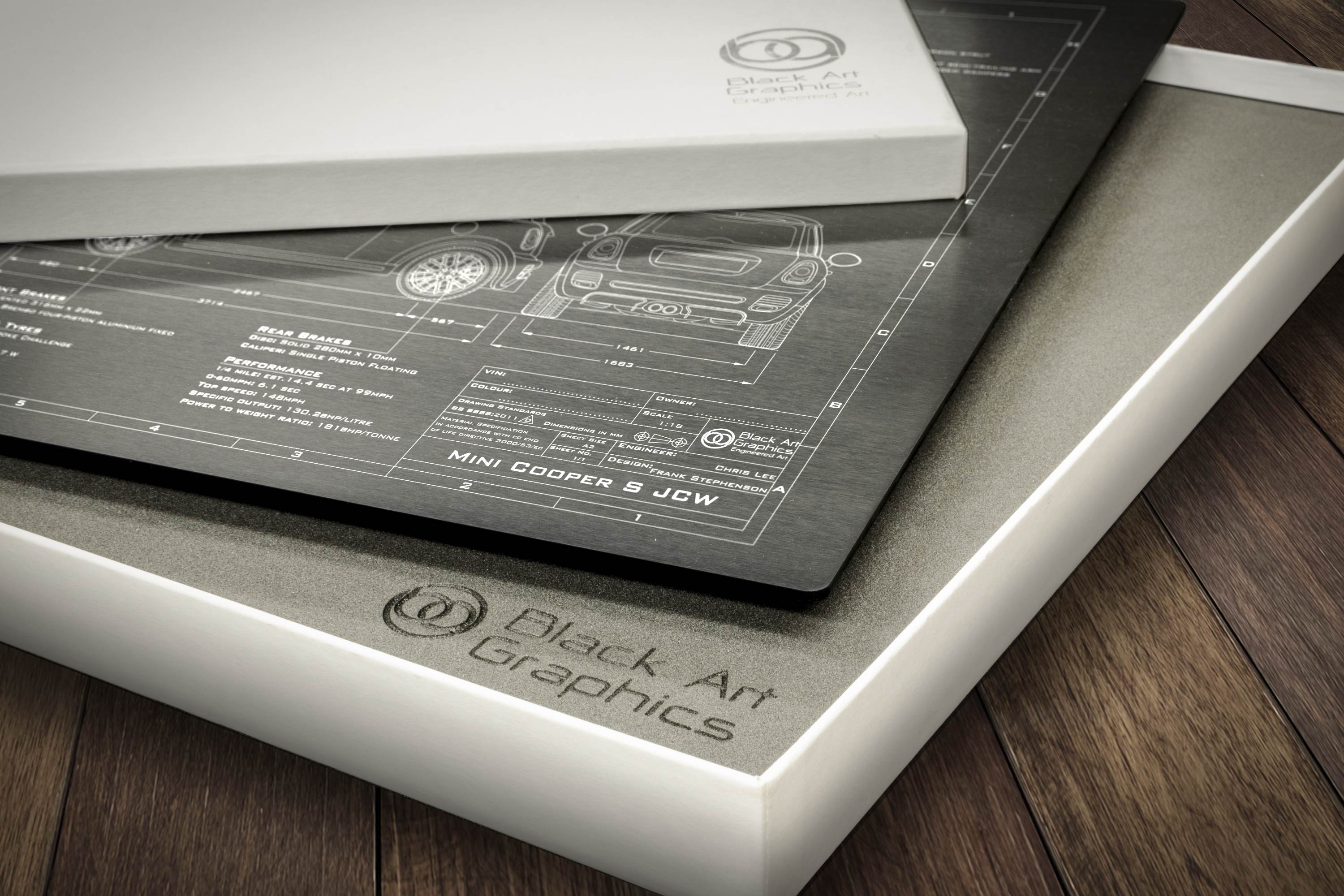 Have it your way | Product Customisation
Engineered Art is designed to be customised. With each piece made to order, our customised package gives you the oppourtunity to tailor your plaque to match your pride and joy.
Whether it's simply added a VIN number and build date, or replicating a full race car complete with livery, our customisation service gives you the flexibility to craft your blueprint to your exact requirements.
Our basic customised package includes the following:
License plates (in the correct style for your location)
VIN
Paint Code
Date of your choice. (i.e. build date, date of purchase)
Custom Text Box (Perfect for a list of factory options or aftermarket modifications
Wheel design altered to suit your vehicle
All customised orders include a pre-production proof copy and the ability to make changes to the design using our automated review and approvals system.
Please note. Some visual changes may incur additional costs. Please Contact Us if your vehicle's visual appearance differs from the one shown on this page
The one stop gift solution

What's in the box?
Engineered Art is designed to be a premium gift solution for some of the worlds most prestigious automotive brands. As such, we have designed the complete package with everything included in the price. All you'll need to do is decide which wrapping paper to use.... (Or, if you're treating yourself, where to display it!)
Our signature 3mm thick brushed aluminium plaque
Original Black Art Graphics High Definition Orthographic™ artwork
Premium foam lined presentation box
Frameless wall mounting system